Chabad @ USC is proud to provide the resources to make Jewish life at USC a meaningful experience:
Mezuzah:
Chabad @ USC is pleased to offer a free Mezuzah to any student. Fill out this form and we will set up a time to hang it for you!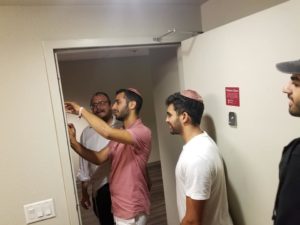 Shabbat Accommodations:
Chabad @ USC sets up Shabbat-friendly access to USC football games through our connections to the USC Ticket Office. Contact Us to receive this accommodation. We also work with Campus Security to ensure that students can access dorm rooms that traditionally require electronic access.
Kosher Food: 
Currently, Chabad runs a Kosher meal plan, providing dinners Monday-Friday. Orders can be placed every day until 2pm, and food is delivered from LA's finest Kosher restaurants (Jeff's Kosher Sausage, Schnitzly) for pickup at the Chabad house. Students can sign up for a meal plan or buy individual purchases.
We are currently working to expand our food options. As of now, Kosher food can be purchased in the Seeds Marketplace on Campus. Chabad also provides Thursday lunch through our Lunch and Learn program, shabbat lunch, and are happy to help pick up Kosher food whenever you need.
Holiday Absences:
Chabad has worked tirelessly to ensure that all students receive proper accommodations to celebrate their religious holidays without penalization from teachers. You can view the university's policy here. We constantly speak with the Office of Religious Life, and can help all students receive proper accommodations. Please contact us in advance to receive help.